Since 2002, Cablesson has been developing innovative and customised HDMI equipment to provide customers with top quality options to receive or send their HD solutions.
IVUNA FLEX PLUS HIGH SPEED HDMI CABLE AND EXTENSION CABLE WITH ETHERNET
A unique and creative design, swivelling and rotating for your convenience.
Introducing Cablesson's latest
installer friendly
Ivuna Flex Plus High Speed HDMI Cable and adapter with Ethernet and
swivelling/rotating connectors.
These unique features were created and carefully designed in house by Salash Motiani, the company's CEO, specifically to solve the problem of fitting cables behind screens where space is restricted.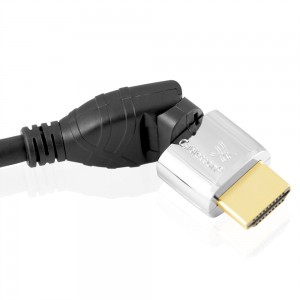 The Cable's flexible and swivelling head means it avoids cable strain.
Being one of Europe's biggest HD cable distributors, the company values customes' feedback and regularly assess what its customers want. Salash explains: "Our installer clientele struggled with installing HDMI cables onto ports if it had to be done at a late stage in the project as this often means removing the screen from the wall.
Taking this into account, we went back to the drawing board and designed something unique. We call this Ivuna Flex. We included a 360 SR (stress relief) in the design, then we added a rotating head on the HDMI hood. The cable adapts to its environment to reduce stress on HDMI port." This simple, but ingenious product has been specifically created for screens that have little soace and is fully 4K capable.
The leading-edge Ivuna Flex Plus HDMI cable and adapter allows the luxury of seeing and hearing every detail with the best quality and without any compromise. Ultimately, Cablesson says Ivuna Flex Plus High Speed HDMI Cable with Ethernet represents a step change in cable design.
Created especially for the install community, the product delivers the 4K future proofing needed as well as the strength and flexibility to deliver high quality signals for the life on the install by avoiding the stresses and strains that can affect other cable design's signal transfer.
KEY FEATURES:
Length: from 0.5 to 5 metres long. Extension/Adapter from 0.2 to 1 metre.
Colour: Black or White.
Gender type: Cable, male to male. Extension, male to female.
High Speed HDMI with Ethernet.
Supported resolutions: up to 4K x 2K.
Connector type: HDMI to HDMI.
24k Gold Plated connector plug contacts.
Mylar backed foil to provide pure digital signals without distortion or loss in signal.
Nitrogen gas-injected dielectric with quad-shielding for maximum signal strength.